DragonRuby Zine Issue 01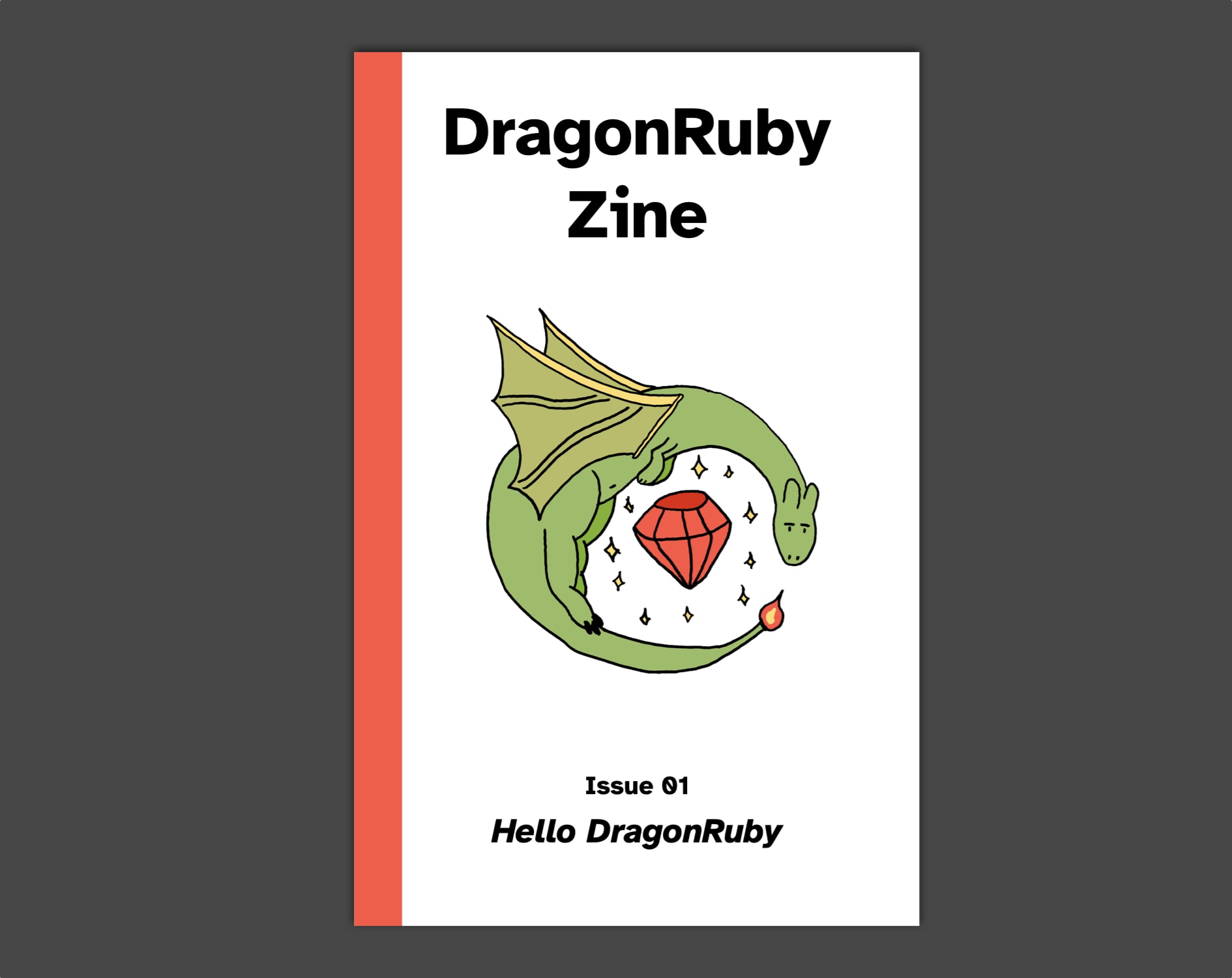 48 pages of delicious DragonRuby Game Toolkit content! Featuring tutorials, interviews, and more.

The theme of the first issue is Hello DragonRuby—perfect for beginners. New to the engine? Start here!
Preview it above in your browser or just download the PDF below!

Features/Bugs
48 pages
Color
Free!
Interview with Amir Rajan, creator of DragonRuby
Secret code
Snake tutorial
Motivational essays that'll make you quit your job on the spot! (this is a joke, don't quit your job until you're ready!)
What the Heck is a Zine?
A zine is an independent publication by passionate people about something they love. It's a way to share thoughts in a format that's easier to mass produce and share than a book. Usually they're much shorter than a magazine, handmade, and super cool.
The DragonRuby Zine is a bi-annual publication by the DragonRuby Game Toolkit community. It is a spiritual successor to the book. It's shorter than the book and more like reading a magazine. Many thanks to the contributors of this project, from the interviewees to Akz, Levi, Kfischer, and Catzebelle for editing and reviewing and proofreading.
Wait, What's DragonRuby Game Toolkit?
DragonRuby Game Toolkit is a fantastic 2D game engine for making games quickly with the Ruby programming language. It's got some really special features like hot reload of your code in the game, cross-platform builds, and blazing speed.

Download It!
Download it! Any donations are appreciated and will go toward producing future issues of the zine.

Buy a Print Copy
Prefer to have a physical copy of the zine? Me too! Zines are 10x cooler in person. Getting a little present in the mail and holding it is so fun. You can buy a print copy of the DragonRuby Zine! It's sold at-cost and comes with an awesome sticker.
Get Involved
Want to contribute to the next issue, coming Fall 2023? Awesome! Join us in the Discord and help us make another fun zine.
Download
Click download now to get access to the following files:
DragonRuby Zine Issue 1.pdf
7 MB
Comments
Log in with itch.io to leave a comment.
Very funny and useful, thanks.
I loved this WAAAAY more than I thought I would! Grabbed the issue for free, and then went back and paid some cash. It was that good.
So glad to hear it. Thanks for the support!